Blue hues that remind us of the sea and sky can provide instant relief from life's many stressors, making them perfect for a calming vibe in your bathroom. If you favor lighter shades but don't necessarily want to be surrounded by baby blue, I suggest picking a shade that has a bit of gray or green in it.
For a more dramatic effect, pick a darker royal or navy blue — just be aware that darker blues can make a space appear smaller and cavelike, so you'll want plenty of light in the space to offset this, or use them sparingly as an accent color. Pairing blue with shades of white or gray will give you a cool, contemporary look. For a warmer feel, try incorporating sandy beige and tan.
Here are some of my favorite blue hues for bathrooms, along with 11 eye-catching blue bathrooms to inspire you.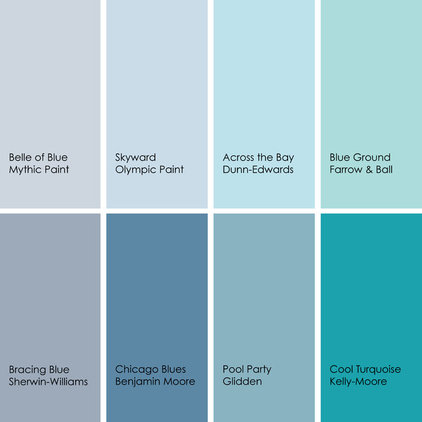 I'm partial to icy light grayish blues as well as bold turquoises, but there are many beautiful blues in between to choose from.
Blue paint picks for bathrooms (clockwise from top left):
What a fantastic use of color and tile. I think it was smart to use the two different tiles on the walls to keep the walls from appearing monolithic and heavy. The bold blue walls are nicely lightened and heightened by the skylight ceiling.
Perhaps you aren't keen to adorn your bathroom walls with bright blue tile. Take inspiration from this striking minimalist bathroom; go with a neutral gray wall and floor tile, and inject color via a sky-blue vanity. This is a good palette for a bathroom that doesn't receive much natural light. The white walls help brighten the room.
Check out how the generous use of wood and warmer neutrals offset a cool blue.
Here's another nice mix of cool blue and white with warm wood. This particular wood has a lot of orange in it, and since orange and blue are complementary colors (opposite each other on the color wheel), they offer the most contrast to each other. You get a large impact using a very limited color palette.
Blue tile need not be limited to bathroom walls. I love this fun floor, with its mix of watery blues, greens and white. The charming painted vanity cabinet picks up a blue hue from the floor, but because the walls and ceiling are painted white, the effect is soft and soothing despite the many colors.
Another bathroom featuring blue painted cabinetry. If your cabinets are in good shape but you aren't a fan of the current color, consider painting them or having them painted. Then pick a darker or lighter version of the cabinet color for the walls or flooring material, to balance it out.
I love this fabulous and funky bathroom, with its denim blue shiplap siding walls and trough sink. The nice thing about using paint, rather than tiles, to inject color into your bathroom is that it's much easier and affordable to make a hue change down the road.
A stunning bathtub such as this deserves to be partnered with a wow color on the wall behind it to help it really stand out. Between the organic sculptural form of the tub and the bold wall color, you really don't need a whole lot of other decorative accessories.
If you are drawn to bolder or darker blue hues but are leery about using them in your main bathroom, consider using them in a half bathroom or guest bathroom instead. These spaces tend to be used less frequently and for limited amounts of time, so they're the perfect spaces in which to go bold with color.
The dark inky blue on the walls in this elegant bathroom adds such drama.
This glamorous bathroom decked out in soothing light gray and tropical blue is the perfect space for taking a long soak with a good book and a glass of wine.
Don't neglect the ceiling when selecting paint colors for a bathroom, especially if you are a fan of taking baths — you deserve a nice view above from the tub. Putting in a skylight may not be an option, but you could paint your bathroom ceiling an uplifting sky blue or a dark, dramatic navy blue, as in this stunning contemporary bathroom.